Here are 9 great ways to making money from your music!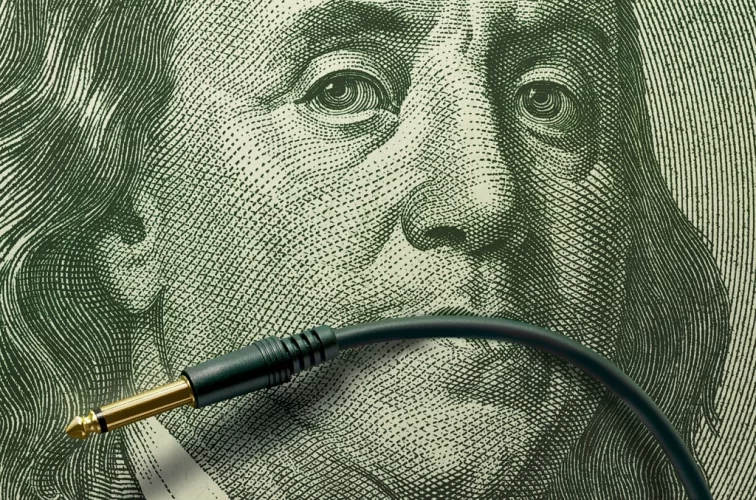 Making money as a musician
There are many ways musicians can make money that do not require knowing people or getting lucky to be successful in the music industry. The best strategy is to have multiple ways of income as it is never good to put all of your work in one basket since there is less chance of profit. 
If making music is your hobby, earning money off of it is the most fulfilling and profitable way to make a living. However, many producers don't know how to start making money from their music. Here you will find a few ways that the big producers do it, and most importantly, how to get started.
Releasing your music on streaming services such as Tidal, Spotify or Apple Music is a great outlet for your tracks, it might not be the most lucrative way as the competition has grown much bigger during the last couple of years. But it can be a great way to get your name out there if you put some effort into promoting it, for example by sending it to popular playlist owners or submitting it to the editorial Spotify playlists using the Spotify for artists mobile app. It generally isn't the primary way that producers in the music industry earn their share, but it is a very good start. In one sense, it is the perfect scenario – you make music, people like the music, they listen to it, and you get paid for it. Ensuring your music is something that people would want to listen to is very important, so if you want to optimise your music to be the most profitable from Royalties, you should consider the fact that pop-friendly styles of EDM do exceedingly well on streaming sites, as do certain instrumental and downtempo styles.
Ghost producing
Ghost producing is substantial in the music industry, particularly with EDM. It is the secret world of music where another artist pays you to produce a track that they can claim as their own. It's one of the easiest ways to make money on the side or make it your full-time job. On the surface it doesn't seem like ghost production would be a good way to get your own name out there, but it does help you establish networks within the industry that can provide a solid ground for your professional career. There are a few websites where you can learn more about ghost producing, namely yourghostproduction.
You can get into songwriting and producing for other artists since numerous artists still need someone to produce their music. If you are willing to help other people with your talent, this is the way to go. For a start, you can ask people around you for anyone who needs a track. When you have a good background, start reaching out to medium-sized artists and send them your work as your portfolio in an email. Lastly, you can connect with a studio that offers production services, for example, by applying for an internship. Finding artists you can produce for will be a step closer to collaborations with big pop stars and will enable you to reach a wider audience.
Instrumentals/ Beats
Creating simple beats that singers or rappers can buy is another way of income. Instead of collaborating, you design a complete track, and people buy it. The more music you make, the more content you have to sell, and the higher your sales will be. You can sell your beats through a distributor or on your site as leases or exclusives. Making beats is a great way to making money from your music!
Sample Packs
Another way of making money is to create sample packs. This isn't the same as creating music as a whole as you're only creating single sounds, however, this is one of the most common and most lucrative ways of making money as a producer as it is a great way to gain a secondary stream of income on the side of your primary endeavours. One of the platforms you can sell samples on is Splice, which is an online sample library where users can pay for samples that producers have uploaded.
Gigs
Starting at your local venues, you can prove yourself to the audience and create your physical fanbase. Building relationships and establishing local connections with the help of networking skills will widen your portfolio. Making your way to the top, you will find yourself wondering about big live shows and festivals. It is, in fact, the most dominant way that producers/DJs make money. in peak festival seasons, DJs are in high demand.
Merchandise
No one goes out to buy albums anymore as we have streaming services for easy listening. But a cool design on a T-shirt or a hoodie is something that everyone enjoys. And a T-shirt or a hoodie designed by you? A great way of advertising yourself. You can reach out and collaborate with different brands to promote yourself and possibly establish new connections. This maybe doesn't directly relate to making money from your music, but it's part of the game!
Masterclass
If you are good at what you are doing, either making music in digital audio workstations or mix and mastering, you should try creating video tutorials of your work. Making youtube tutorials, going live on twitch or selling courses on different sites are different ways you can put your talent to work.
Patreon/ Other
Once you're established in the industry and have a loyal fanbase, even more doors open to making money from your music. Many producers are using platforms like Patreon to give their fans a place to show their support by simply giving them some money to show their appreciation. This can also be done on platforms such as YouTube (with the join button), or even with something as simple as a PayPal link in an Instagram bio. You can even offer incentives to platforms like Patreon to give your supporters perks like behind the scenes content.
When you are looking into making money from your music, you should consider choosing at least a few of the things listed in this post to maximise your money-making ability and get the most out of your talent.
Submit music to Your Ghost Production right now and start making money on your tracks!